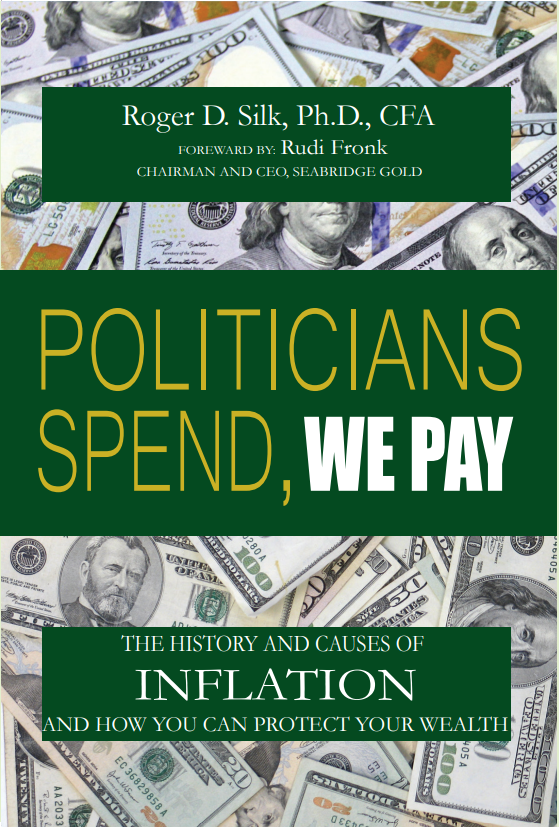 Enter to win a free copy!
Email us with the title "Free Copy" to enter the contest!
You can win:
Politicians Spend, We Pay: The History And Causes Of Inflation And How You Can Protect Your Wealth
High price inflation has returned because politicians seem to have forgotten, or are ignoring, the lessons of history, and their economist advisors have forgotten, or are ignoring, the lessons of economic theory. By creating large amounts of new money, essentially out of thin air, the government is creating the monetary conditions that, in the past, have, almost without exception, led to high levelsof price inflation.
Politicians Spend, We Pay is the new book by Roger D. Silk, CEO of Sterling Foundation Management, LLC and President of Lifetime Perspectives, Inc. In this book, you will learn valuable information such as:
Eleven "Do's and Don'ts" if you knew higher inflation was coming.
How various types of investments are likely to fare during high inflation.
Why there is no such thing as "the price level".
How and why the Consumer Price Index intentionally underestimates inflation.
US government debt is close to unsustainable levels - what likely event can tip the scales into a downward spiral.
Learn all this and more with your copy of Politicians Spend, We Pay. To purchase a copy, or to see if you qualify for a free copy, please email Connor Barth at [email protected].
Praise For The Book
"There is a new 'Silk Road'—this time as a path through the complex world of inflation. Roger Silk has produced a thinking person's guide to the theory, measurement, and history of price rises. His vignettes of inflation through time, from 600 BC to the present, are among the most fascinating dimensions of this new volume."
-Walter P. Falcon, Professor Emertius, Stanford University
Dr. Silk has more than three decades of experience working with and advising wealthy clients, high net worth families, and the advisors who work with them on a variety of issues ranging from the use of private foundations to the integration of sophisticated charitable planning into mulit-generational estate plans.

Dr. Silk holds a Ph.D. and an M.A. in applied economics from Stanford University, as well as a B.A. in economics (with distinction). He earned his CFA in 1990.